Shree Shree Bijoy Krishna Bhakt Sangh Ashram
Station Road, (Near ITI College & Joychandi Pahar Station)
Raghunathpur (Purulia) - 723133
West Bengal
Ph. +91 993260701, +91 9332409501


About The Ashram
Located at the outskirts of the town of Raghunathpur in Purulia district of West Bengal, India, Shree Shree Bijoy Krishna Bhakta Sangh Ashram was established in 1975 AD by SWAMI ALOKANANDA SARASWATI and SWAMI AMALANANDA SARASWATI 3. They established the ashram to spread the name of God through Naama Kirtan and to promote the preaching's of Shree Chaitanya Mahaprabhu and Gosaiji for the benefit of the mankind. The ashram has a Smriti Mandir (dedicated to Thakur1 and Guruma2) and a Kirtan Mandir. Devotees can also plan to visits to the Shree Shree Bijoy Krishna Ashram, Ramchandrapur (Station: Muradi) – the seat of Thakur and Guruma, located at an hour's journey through road or train.

1 Thakur: Swami Asimananda Saraswati (Click to know more.)
2 Guruma: Shree Shree Sailabala Devi, wife of Swami Asimananda Saraswati. (Click to know more.)
3 Swami Alokananda Saraswati & Swami Amalananda Saraswati are the disciples of Thakur (Click to know more.)




Jagannath Mandir at Ashram

Smriti Mandir at Ashram

Kirtan Mandir at Ashram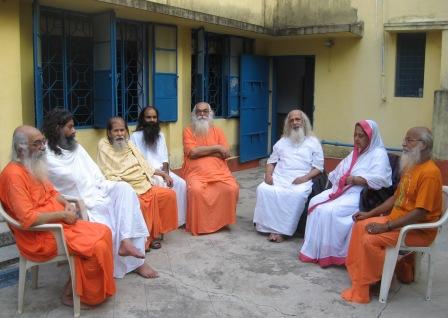 Ashram Courtyard
From L to R: Swami Alokanand Saraswati 1, Shree Amit Brahmachari, Swami Sambudananda Saraswati, Shree Avinash Bhramachari,Swami Amalananda Saraswari 1, Shree Shree Pathak Baba 2, Shree Shree Pathak Maa 2, Swami Vinayananda Saraswati

1 Swami Alokananda Saraswati & Swami Amalananda Saraswati are the disciples of Thakur (Click to know more.)

2 Shree Shree Pathak Baba, Shree Shree Pathak Maa are the disciples of Thakur. (Click to know more.)

Major Events
Although kirtan is conducted daily during morning and evenings at the ashram alongwith reading of Gita's 11th chapter in the morning, akhanda naama kirtan programmes are held on special occasions:

1. Raas Purnima Utsav: Conducted on the full moon day or fifteenth day of the month of Karthik as per the Hindu calendar falling during November-December. This celebrates the birth date of Sri Guruma.

2. Tirobhaav Utsav: Celebrated on the first Ekadasi or the eleventh day of the Baisakh month of the Hindu calendar falling during April-May. This event commemorates the day when Shree Guruma passed in the state of Mahasamadhi (Final Reunion with God).

In addition to the above programmes, akhanda naam kirtan programmes are held from time to time at various cities conducted by Swami Alokananda Saraswati and Swami Amalananda Saraswati. We will be providing you with the details on the home page of this website (Click to go to Home Page). However, any of the contact persons mentioned in the website could be contacted for details of the next scheduled programmes. These akhanda naama sankirtan programmes are also associated with nar-narayan seva or mass distribution of Prasad. Special kirtan ceremonies are held almost on every Purnimas or full moon days of the month as per the Hindu calendar.







How to reach the Ashram
How to reach the Ashram
The Ashram is located about 3 km from the town of Raghunathpur on the road to the nearest station of Joychandi Pahar, about 500m from the Ashram. The other landmarks near the Ashram are the ITI college, M/s Raimata Rice Mill or Sri Raimata Temple.


By Train:
The nearest stations are Joychandi Pahar rail station (0.5km) on the Asansol – Adra section of South Eastern Railway or the Adra Junction (3km) itself. Local trains ply on this route on either direction almost every hour. Some express trains do not have a stoppage at Joychandi Pahar, but stop at the next nearest station of Adra.
List of mail/express trains stopping at Joychandipahar Station: http://www.cleartrip.com/trains/stations/JOC


By Road:
Raghunathpur is located on the Purulia – Barakar road connecting Purulia to Asansol . If travelling from Kolkata, NH2 highway is to be taken to Asansol and then the diversion for the road to Purulia. Total distance from Kolkata is around 250km and may take 4-5 hrs. Buses ply frequently from Asansol and other nearby towns to Raghunathpur.